About this event
Category

Sociaal

Organizer

Date

3 - 12 Mar 2023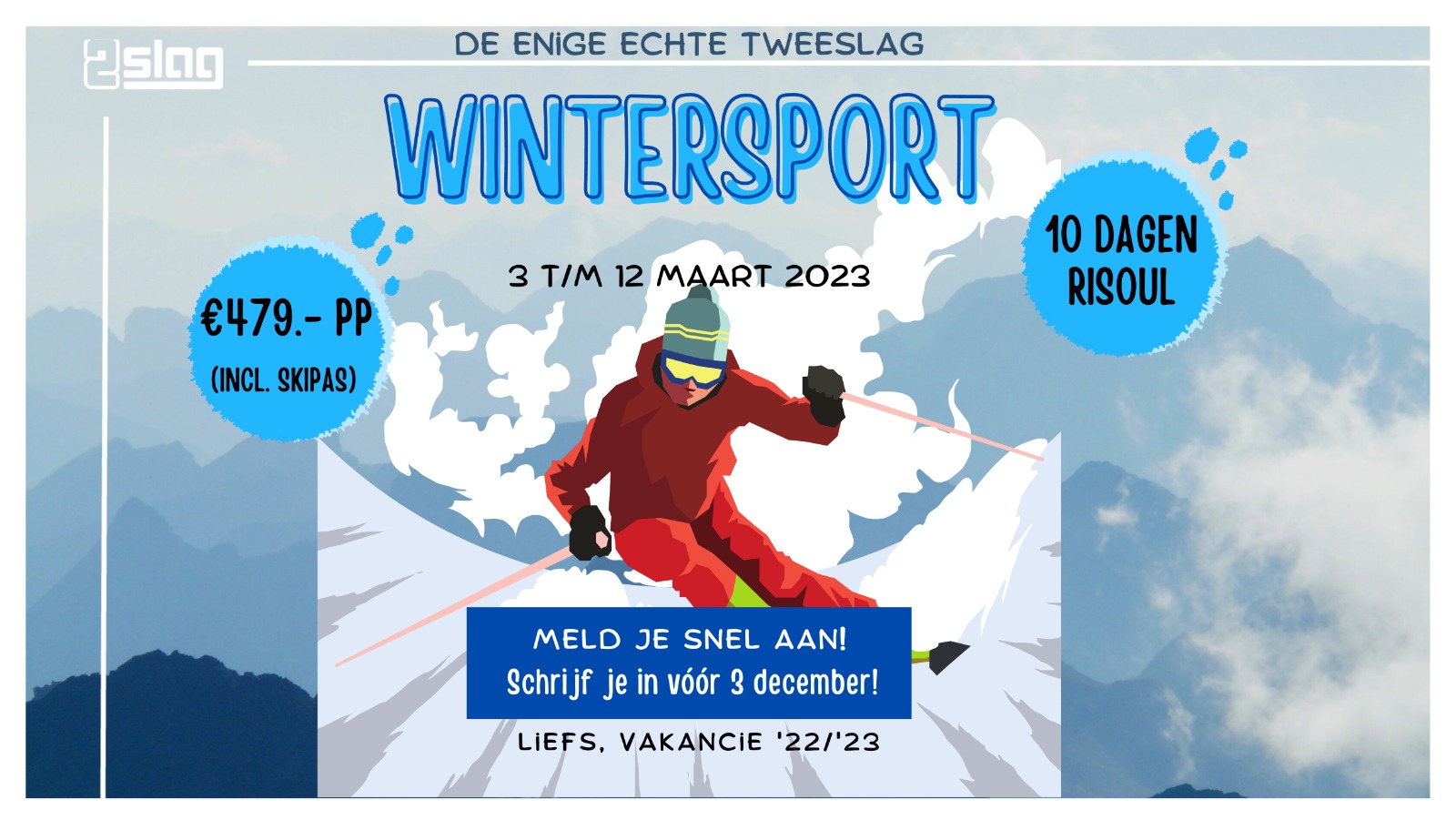 - ENGLISH BELOW-
Lieve Tweeslaggers,
Het is eindelijk zover! Zoals sommigen al gehoord hebben gaat Tweeslag weer op wintersport! Van 3 tot en met 12 maart zullen we het zand omruilen voor de verse sneeuw in Risoul, Frankrijk. De inschrijvingen zullen openen op 07-11-2022 om 12:00 uur. Zorg dan dat je de webpagina bij de hand hebt, want vol = vol!
Volgend een overzicht met alle informatie:
- Inschrijven = niet meer uitschrijven ➡️ bij annulering kun je wel een persoon vinden die je plekje overneemt
- Prijs: €479,00 p.p. dit is inclusief: busreis, verblijf, 7 daagse skipas (voor €30,00 extra kun je uitbreiden naar 8 dagen), toeristenbelasting, en kortingspas voor bier bij ons eigen après-ski bar🍻
- Mocht je nou nog nooit op skis of een snowboard hebben gestaan, dan is dat geen probleem! Lessen kun je volgen voor 5 halve dagen voor €132,00 p.p.
- Mocht je skimateriaal 🎿 willen huren dan kan dat voor ca. €100 voor 7 dagen, afhankelijk van de kwaliteit van het materiaal (er zijn verschillende 'levels' van kwaliteit waarvoor je kunt kiezen)
- Borg accomodatie: 100 euro (dit moet contant en op de accomodatie bij aankomst worden betaalt)
Na de aanmelding zul je een link ontvangen waarin je jouw persoonlijke gegevens moet invullen en eventuele extra's kan bijboeken (ski/snowbaord lessen, materiaalhuur enz.)
Het wintersportgebied La Forêt Blanche staat bekend als een topbestemming voor studenten en heeft 185km aan piste waar zowel de beginnende als gevorde wintersporters plezier kunnen beleven zowel op de piste of vooral in de après ski!
Wij hebben er in ieder geval super veel zin in ⛷️🏂🍻!
T'vo, de VakanCie
-- English --
Dear Tweeslaggers,
The moment you have been waiting for is finally here! As some may have already heard, Tweeslag is organising the annual wintersportstrip again! From 3 to 12 March we will exchange the sand for the fresh snow in Risoul, France. Registrations will open at 07-11-2022 at 12:00 hour. Then make sure you have the webpage at hand, because full = full!
Following is an overview with all the essential information:
- Registered = registered➡️ in case of cancellation you can find a person to take over your spot
- Price: €479.00 p.p. this includes: bus trip, stay, 7-day ski pass (for €30.00 extra you can extend it to 8 days), tourist tax, and a discount pass for beer at our own après-ski bar🍻!
- If you've never been on skis or a snowboard, that's no problem! Lessons can be followed for 5 half days for €132.00 p.p.
- If you want to rent ski equipment 🎿 you can do so for approx. €100 for 7 days, depending on the quality of the equipment (there are different 'levels' of quality you can choose from)
- Deposit accomodation: 100 euros (has to be paid in cash at the accomodation on arrival)
After registration, you will receive a link in which you have to fill in your personal details and can add any extras (like ski/snowboard lessons, equipment rental etc.)
The winter sports area of ​​La Forêt Blanche is known as a top destination for students and has 185 km of slopes where both novice and advanced winter sports enthusiasts can have fun on the slopes or, for some others, mostly in the après ski!
We are super excited and hope to see you all there ⛷️🏂🍻!
T'vo, the VakanCie
Participants
Please login to view all participants